Lens Shaped Coffee Mug With Lid, Includes Delivery
HIGHLIGHTS
Looks and feels like an SLR camera lens
Screw-on lid with open and close tab
Insulates beverages or dinosaur-DNA samples
Stainless steel interior
Food-grade plastic exterior
12 oz. capacity
Dimensions: 3" (L) x 3" (W) x 5.625" (H)
FINE PRINT
Please enter daytime delivery details, PO Boxes not valid
Delivery will be in 3-5 working days
Additional Charges may apply for delivery to outlying areas
Subject to availability
Limited number available
Picture displayed is a representation
Return Policy:Notify Info@crazedeals.co.za within 3 days of delivery.
Returns are accepted only if in original packaging.
Opened packages will not be accepted for returns.
Defective products need to be returned for an exchange of product
A black cylinder marked with focus and aperture rings and depth-of-field scales rests on a desk. Imagine the surprise of coworkers and thieves when you lift it to your lips, revealing that it's actually an ingeniously dressed travel mug. Its exterior design can start conversations, but the mug is built simply, with a food-grade plastic exterior and a stainless steel interior to insulate coffee drinks, teas, and other beverages.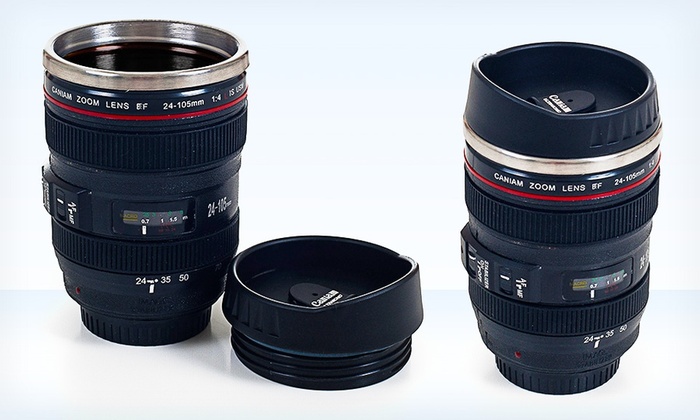 Stock:

In Stock

Model:

CRD073